Abstract: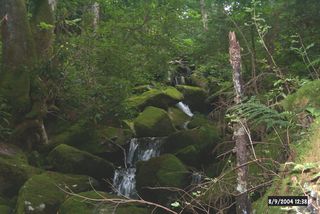 is a tributary stream to North River in the Cherokee National Forest (Big Junction Quad Map). This stream is, seemingly, not remote but in reality it is the most difficult and dangerous brook trout stream to negotiate.  The stream is actually one significant waterfall after another in a narrow gorge.  Occasionally, the brook trout may grow to exception size in this extremely arduous stream.  There is no trail associated with this stream – there is no easy way out. Its headwaters are over 5000 feet in elevation with the highest area being Little Haw Knob (5130 feet).
The stream plunges over a waterfall at about 3100 feet into Meadow Branch.  It is fishable for about 0.5 miles to an elevation of 3400 feet.  The average gradient is an incredible 12.7%.  This gradient is extremely steep – 300 feet in less than one half mile.  The stream is actually one significant waterfall after another in a narrow gorge.  At one point the entire flow goes through a steep bedrock gorge less than five feet wide.  For most of its fishable length, Roaring Branch is 10 to 15 feet wide; some pools are up to 3 feet deep.  This stream is not a hike; it is a climb!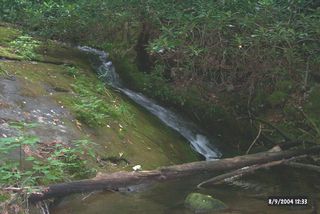 The confluence of Roaring Branch with Meadow Branch is close to the North River Road (Forest Service Road 217); however, there is no trail to it.  Look for a pull-off where North River Road first gets back to Meadow Branch.  Cross Meadow Branch at the pull-off and contour around (on a wildlife trail) through the rhododendron to Roaring Branch.  The animal trail arrives at Roaring Branch immediately above a waterfall.  Plan to fish the entire length of the stream to Forest Service Road 61 and walking back to Meadow Branch (about 2.5 miles) or shuttle a car up to the road crossing.  Two anglers are ideal for this stream because of the need for two vehicles.  The rhododendron is extremely thick and difficult to get through if you try to come out any other way than up the creek.
Because of the steep gradient, Roaring Branch is one waterfall after another.  There is virtually no slow water and spawning is probably negligible to non-existent.  Most trout get washed over the falls and out of Roaring Branch.  The fishery is sustained by periodic (every three years or so) stocking.  Why would anyone want to go into a stream that is dangerous, extremely difficult, and doesn't sustain very many trout?  Because many of the trout get washed out and there is no significant reproduction, those trout that persist grow to an exceptional size.  I have "heard" of 13 inch brook trout being caught here but the average fish is closer to 9 inches.
Current regulations allow year-round fishing with flies and lures only.  A three fish per day limit with size limits is imposed.  There are only brook trout in Roaring Branch.
Submitter: Jim Herrig
Date Submitted: 8/3/2006
Name: Roaring Branch
Location and Access: In Tellico Plains (at the junction of Hwy 68 and 165), drive east on Hwy 165 (Tellico-Robbinsville road or Cherohalla Hwy).  At the east edge of town stay on Hwy 165; do not turn onto Hwy 360.  Continue on Hwy 165 for about 5 miles.  It parallels the Tellico River and crosses it once.  Just passed the Oosterneck pulloff, take Forest Service Road (FSR) 210 toward Bald River Falls and the Ranger Station.  Continue on FSR 210 for about 11 miles to North River Road (FSR 217).  It parallels North River and crosses it twice.  Continue on FSR 217 for about 12 miles to a pulloff where Meadow Branch first comes close to the road.  Cross Meadow Branch and contour around through the rhododendron to Roaring Branch.  Fish up Roaring Branch to Forest Service Road 61.  Follow the road back to your vehicle (about 2.5 miles).  I do not recommend trying to go cross country to get back.  It will not be a pleasant "shortcut".
Fish Species: brook trout
Regulations: Single hook, artificial only.