Abstract:  Big Cove Branch is a tributary stream to North River in the Cherokee National Forest (Big Junction Quad Map). It is easy to access at the lower end but most of the brook trout are over three quarters of a mile upstream.  Getting back to your starting point on North River involves a long hike if you go above the waterfalls to catch brook trout.  The two major waterfalls on this stream are spectacular.  The stream recently underwent some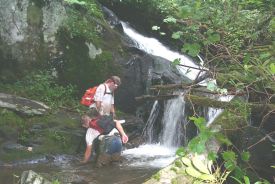 rehabilitation which involved trimming the thick rhododendron to improve the stream flow and angler access.
Big Cove Branch is a tributary stream to North River/Tellico River/Little Tennessee River in the Cherokee National Forest (Big Junction Quad Map).  Its headwaters are over 4000 feet in elevation with the highest area being on Whigg Ridge between Whigg Meadow and Deep Gap (4030 feet).  This stream is easy to accessed but getting out can take a long, cross country hike.
From its mouth to its headwaters, Big Cove Branch was plagued with continuous, dense stands of rhododendron.  The rhododendron was so dense that it extended completely across the channel blocking the stream flows and anglers.  The Appalachian Chapter of Trout Unlimited and the US Forest Service expended considerable effort to open the stream channel by trimming back the rhododendron.  After the project was completed in 2006, Big Cove Branch flowed in its natural channel, scoured out sediment that had deposited behind the rhododendron obstructions, restored deep pools, and provided access and fishing opportunities for anglers.
The stream flows into the North River at about 2060 feet.  From its confluence with North River upstream for about 0.6 miles, Big Cove Branch has a boulder and gravel stream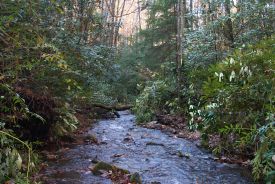 bottom with very dense rhododendron on both sides of the channel.  Above this stretch are two significant waterfalls (both are over 30 feet high).  The first waterfall flows over a wide bedrock lip then cascades through some rubble.  It has no plunge pool.  The second waterfall is one of the most unusual I have ever seen.  It consists of a narrow chute that is perpendicular to the stream channel for the first 20 feet then plunges into a nice pool.  Climbing these waterfalls is not too difficult but they should be regarded as very dangerous and great caution is recommended.  Above these waterfalls the channel returns to a boulder and gravel substrate with occasional bedrock outcrops.  Fishable water extends for another 0.7 miles.
Access Big Cove Branch off North River Road (Forest Service Road 217) at the parking area for the Donley Cabin.  Cross North River and follow the trail (approximately 0.1 mile) to Big Cove Branch.  The lower reach contains both rainbow and brook trout and is fairly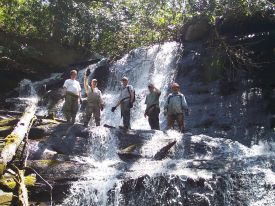 easy to get into and out of.  About 0.3 miles up stream of the confluence there is an opening cut through the rhododendron that accesses a wildlife opening with a road back to the North River confluence.  The next exit point from the stream channel is above the waterfalls where Forest Service Road 2417 (closed to public motorized access) comes close to the stream.  Again a path has been cut through the rhododendron out to the road.  The final exit is at the culvert where Big Cove Branch goes under FSR 2417.  To get back down to the confluence, follow this road westward to until you get above the Donley Cabin.  An old trail used to connect FSR 2417 to the cabin but it is no longer maintained.  If you keep good track of where you are on the road, you will be able to get back to the cabin without the trail.
Brook trout occur throughout Big Cove Branch but are most numerous above the waterfalls which exclude the rainbow trout.  Since the rhododendron trimming project, both the rainbow and brook trout populations have expanded significantly and a good angler should catch plenty of each species. Current regulations allow year-round fishing with flies and lures only.  A three fish per day limit with size limits is imposed.
Submitter: Jim Herrig
Date Submitted: 11/30/2006
Name: Big Cove Branch
Location and Access: In Tellico Plains (at the junction of Hwy 68 and 165), drive east on Hwy 165 (Tellico-Robbinsville road or Cherohalla Hwy).  At the east edge of town stay on Hwy 165; do not turn onto Hwy 360.  Continue on Hwy 165 for about 5 miles.  It parallels the Tellico River and crosses it once.  Just passed the Oosterneck pulloff, take Forest Service Road (FSR) 210 toward Bald River Falls and the Ranger Station.  Continue on FSR 210 for about 11 miles to North River Road (FSR 217).  It parallels North River and crosses it twice.  Continue on FSR 217 for about 5 miles to a pulloff where a sign about the Donley Cabin and foot bridge across North River are located.  Cross North River and follow the trail about 0.1 miles to Big Cove Branch.
Fish Species: brook trout throughout, rainbow trout in the lower reach
Regulations: Single hook, artificial only.