Abstract:  Brookshire Creek is a tributary stream to Bald River in the Cherokee National Forest (Bald River Falls and Unaka Quad Maps). It is easy to access from Forest Service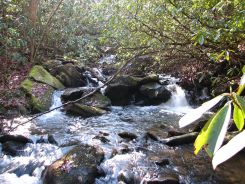 trail 180 that starts where FS Road 126 first comes down to the Bald River. Once you get to Brookshire Creek, you will be in large, open valley or cove with excellent camping sites amid the large poplars.  The stream has only brook trout in it and they are plentiful.   There are about 3 miles of fishable water with no steep, cascades or waterfalls. Getting back to your vehicle will take some time because of the distance but the trail is an old railroad grade that has a gentle 3% slope almost the whole length.
Brookshire Creek is a tributary stream to Bald River/Tellico River/Little Tennessee River in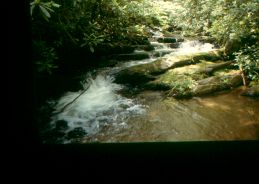 the Cherokee National Forest (Bald River Falls and Unaka Quad Maps).  Its headwaters are over 4200 feet in elevation with the highest area being on Beaverdam Bald (4259 feet).  Access to this stream requires a 2 mile hike up an excellent Forest Service trail (180).  Horses are allowed on this trail.  At the confluence with Bald River, the trail continues up Brookshire Creek all the way to its headwater springs at Sled Runner Gap between Rocky Top and Beaverdam Bald.
A small stream, Brookshire Creek widths are generally less than 12 feet. Up high the width narrows to only a few feet but because of the spring influence brook trout are present well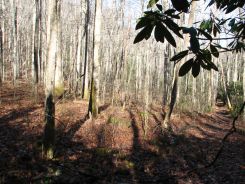 beyond where anglers can easily step across the entire channel.  Rhododendron is often thick, especially on the upper end.  The trail has tunnels hewn through this prolific shrub.
Brookshire Creek does not have any waterfalls on it that are of any consequence.  Just down stream of its confluence with Bald River, a series of waterfalls (one as high as 15 feet) form a barrier to upstream migration of rainbow and brown trout. The gradient of the stream is consistently about 8% with no flats or exceptionally steep areas.
At its confluence with Bald River, Brookshire Creek is about 2100 feet in elevation.  For the next 1.7 miles the stream flows through a wide valley with many flat areas suitable for camping.  The open understory beneath the huge poplar trees makes this rich cove setting very inviting.  Once the stream turns southeastward the valley narrows down and the rhododendron becomes impassable.  If you want to work at it, the fishable water extends for another 1.3 miles.
Rainbow trout were the only fish present in Brookshire Creek prior to 1982 having been stocked there during the 1930's following the extirpation of the native brook trout by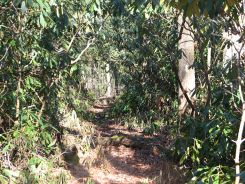 exploitation logging. In the fall of that 1982 the Tennessee Wildlife Resources Agency and US Forest Service attempted to replace the rainbow trout with brook trout.  Electrofishing and creosol were used to remove the rainbow trout.  Brook trout were brought in from upper Bald River (pure southern strain) and Henderson Branch (hybrid of northern and southern strains).  At the time the southern strain of brook trout was not recognized and mixing of brook trout from different areas was common.  The effort failed to eliminate the rainbow trout but brook trout were successfully established.  In 1989 and 1990 a second effort at removing rainbow trout was made by TWRA, USFS and Trout Unlimited.  This effort was a success and today Brookshire Creek contains only brook trout.
Access Brookshire Creek off Bald River Road (Forest Service Road 126) at the confluence of Bald River and Henderson Branch.  A FS horse trail (open to use by hiker, too) parallels the streams for about 2 miles.  About half way up the trail it fords Bald River. As you approach the Brookshire Creek confluence with Bald River, there is a series of waterfalls – each a little higher than the previous.  The last is about 15 feet high. These waterfalls prevent the brown and rainbow trout in Bald River from entering Brookshire Creek.  Abundant numbers of brook trout occur in this fine stream.  If you camp in the beautiful cove, it is entirely appropriate to have a brook trout dinner.  Otherwise, turn them loose because they will not remain fresh on the long hike back to your vehicle.
Current regulations allow year-round fishing with flies and lures only.  A three fish per day limit with size limits is imposed.
Submitter: Jim Herrig
Date Submitted: 1/9/2007
Name: Brookshire Creek
Location and Access: In Tellico Plains (at the junction of Hwy 68 and 165), drive east on Hwy 165 (Tellico-Robbinsville road or Cherohalla Hwy).  At the east edge of town stay on Hwy 165; do not turn onto Hwy 360.  Continue on Hwy 165 for about 5 miles.  It parallels the Tellico River and crosses it once.  Just passed the Oosterneck pulloff, take Forest Service Road (FSR) 210 toward Bald River Falls and the Ranger Station.  Continue on FSR 210 for about 17 miles to Bald River Road (FSR 126).  Follow FSR 126 for about 6.5 miles to the first campsite on Bald River.  Henderson Branch comes into Bald River here.  A hiking/horseback riding trail (FS 180) parallels Bald River upstream for two miles to the confluence with Brookshire Creek.  The trail continues up Brookshire Creek to its headwaters and the stream is easily accessed of it.  Primitive camping is available all along Bald River and Brookshire Creek.
Fish Species: brook trout only
Regulations: Single hook, artificials only; 3 fish per day; 6 inch size limit for brook trout.