Abstract:  Henderson Branch is a tributary stream to Bald River in the Cherokee National Forest (Bald River Falls Quad Map). It is easy to access at the lower end with FSR 126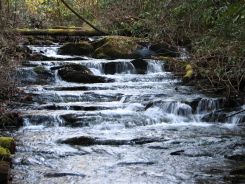 paralleling the stream for about 2 miles.  Getting back to your starting point on FSR 126 can be a little difficult because of the steep road bank and thick rhododendron along the stream.  There are no major waterfalls on this stream but a concrete dam serves as a barrier to separate the brook trout from the rainbow and brown trout.  The stream recently underwent some rehabilitation which involved trimming the thick rhododendron to improve the stream flow and angler access.
Henderson Branch is a tributary stream to Bald River/Tellico River/Little Tennessee River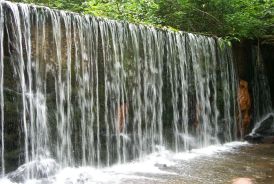 in the Cherokee National Forest (Bald River Falls Quad Map).  Its headwaters are over 3600 feet in elevation with the highest area being on Sugar Mountain (3600 feet).  This stream is easy to access from its mouth and upstream for about 2 miles (to the confluence with Ellis Branch).  Above this confluence, Henderson Branch gets away from Forest Service Road 126 and travel becomes difficult.
Henderson Branch is a small stream; widths are generally less than 20 feet. It has a low gradient throughout the fishable extent and is probably the flatest brook stream in the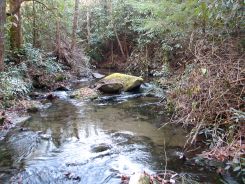 Tellico area.  From its mouth to its headwaters, Henderson Branch is plagued with continuous, dense stands of rhododendron.  The rhododendron extends completely across the channel blocking the stream flows and anglers.  In 2006 the US Forest Service opened up a portion of the stream channel (between Skull Branch and Ellis Branch) by trimming back the rhododendron.  Access is much improved as is the physical habitat within the stream channel.  Spawning gravels that had been buried by sediment are now exposed and shine brightly against the algae covered stream bottom.
(The stream flows into the Bald River at about 2100 feet.  From its confluence with Bald
River upstream for about 0.8 milesto Skull Branch), Henderson Branch has a gravel to sand or even silt with flat bedrock outcrops for a stream bottom.  Very dense rhododendron grows on both sides of the channel and fishing can be very challenging.  At Skull Branch a concrete dam blocks the migration of rainbow and brown trout from the brook trout waters above.  The stream gradient remains low with small waterfalls (less than 3 feet high).  Fishable water extends for another 1.5 miles.
Access Henderson Branch off Bald River Road (Forest Service Road 126) at the confluence with Bald River or near Skull Branch.  The FS road parallels the streams for about 2 miles.  The lower reach (below the barrier) contains rainbow, brown and brook trout and is fairly easy to get into and out of.  I have seen large brown trout moving into Henderson Branch from the Bald River during the fall spawning season.  Above the barrier dam, brookies should be the only trout encountered.  Creek chubs are also present. Current regulations allow year-round fishing with flies and lures only.  A three fish per day limit with size limits is imposed.
Submitter: Jim Herrig
Date Submitted: 1/9/2007
Name: Henderson Branch
Location and Access: In Tellico Plains (at the junction of Hwy 68 and 165), drive east on Hwy 165 (Tellico-Robbinsville road or Cherohalla Hwy).  At the east edge of town stay on Hwy 165; do not turn onto Hwy 360.  Continue on Hwy 165 for about 5 miles.  It parallels the Tellico River and crosses it once.  Just passed the Oosterneck pulloff, take Forest Service Road (FSR) 210 toward Bald River Falls and the Ranger Station.  Continue on FSR 210 for about 17 miles to Bald River Road (FSR 126).  Follow FSR 126 for about 6.5 miles to the first campsite on Bald River.  Henderson Branch comes into Bald River here.  The dam at Skull Branch was about 5 miles from the junction of The Tellico River Road and Bald River Road.
Fish Species: brook trout throughout, rainbow and brown trout in the lower reach
Regulations: Single hook, artificial only.